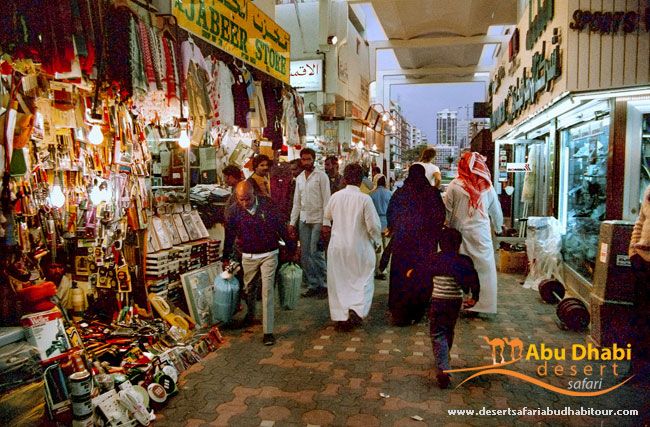 Old Souk Abu Dhabi – The Old souk belongs to the district of same name and is one of the oldest markets in Abu Dhabi. People visiting here can buy a wide variety of consumer goods, food stuffs and ornaments. The natives visit this market for their daily requirements and the foreign visitors will get a typical Arabian experience of shopping. You could do a healthy bargaining with the vendors so that you can get some price reduction, but only thing is that you should be polite enough.
The word souk in Arabic means 'marketplace'. During olden days when dhows from India and Far East offloaded their cargo and this was sold in the souks. Now the type of goods has changed drastically, now along with spices, silks and perfumes, you can buy electronic goods, souvenirs, clothing and household items. It is a great chance to feel the hustle and bustle of the souk and get to know the variety of goods, and understand the traditional business process.
The daily routine of fishermen is to offload their day's catch on the wharf and get ready for haggling. So to understand this process, visit Fish Souk at Mina Zayed which is near Abu Dhabi's main port area, and become familiar with the traditional style of business that is unique and can only be seen here.
Opposite the Fish Souk, that is by crossing the road, you will find Al Mina Fruit & Vegetable Souk market, the market turns vibrant with different colors as the shopkeepers arranges their products outside the shops. A wide variety is available; you can buy fruits or vegetables in kilo or in boxes. If you are not thinking of buying, then you can click some photos.
At Abu Dhabi there is Carpet Souk also. Here it is dominated by Yemeni mattresses and machine made carpets. You can bargain for products here and should be sure of what you are hunting for. Arabic Majlis style cushions are also available here with some sellers. Carpet Souk is located at Mina Road which is adjacent to Abu Dhabi's main port area.
Another interesting place would be Al Ain Souk which is a wonderful place to understand and get to know the local atmosphere and sharpen your bargaining aptitude.
[gravityform id="2″ name="Abu Dhabi Holidays Enquiry Form"]